Cub Cadet produces a remarkable selection of high-quality, robust, and dependable zero-turn ride-on mowers, specifically designed to assist property owners in effectively managing expansive lawns and gardens.




1. What is a zero turn mower?
A zero-turn (z-turn) riding lawn mower refers to a particular type of riding mower that offers an exceptional advantage: virtually no turning radius. This remarkable manoeuvrability is achieved by enabling each of the rear wheels to turn independently. As a result, the operator can effortlessly execute a 180-degree turn on the spot, making zero-turn mowers significantly more agile than conventional lawn tractors, which necessitate wider turning circles.
2. I have trees and irregularly shaped garden beds, which mower should I choose?
If you have closely spaced trees in your yard, a lawn tractor may be able to maneuver around these obstacles to some extent. However, if you desire to mow right up close to trees and garden beds without the need for frequent 3-point turns, a zero-turn mower is your optimal choice. Even on flat lawns, using a zero-turn mower enables significantly faster turns at the end of each mowing row, enhancing efficiency and reducing overall mowing time.
3. Which sized cutting deck do I need?
The choice of the cutting deck size relies on the dimensions of your property and your budget. Opting for a larger deck means spending less time mowing, as each pass covers a wider section of grass. However, if you have a smaller property or need to navigate around obstacles, a smaller deck might be the more suitable option. The 42″ deck size is frequently preferred for residential use.
4. What is a hydrostatic transmission?
Utilizing pressurized oil to activate pistons that engage the drive wheels, a hydrostatic transmission provides swift acceleration and quick response time for your mower. This transmission mechanism enables the mower to operate at various speeds, enhancing versatility and control.
5. What fuel do I use in my mower?
For optimal performance, we suggest utilizing unleaded petrol with an octane rating of 84-90 and containing less than 10% alcohol content. It is crucial to note that fuels exceeding a 10% ethanol content, such as E15 (15% alcohol), are NOT recommended for use.
6. Do you offer a warranty?
Yes, we offer industry-leading warranties on all our products including a 2-year domestic use warranty on Cub Cadet Enduro Series Ride On Mowers, and RZT Series Zero Turn Mowers.
Warranty periods for Cub Cadet products may vary by product category, whether the intended use is residential or commercial, and from model to model.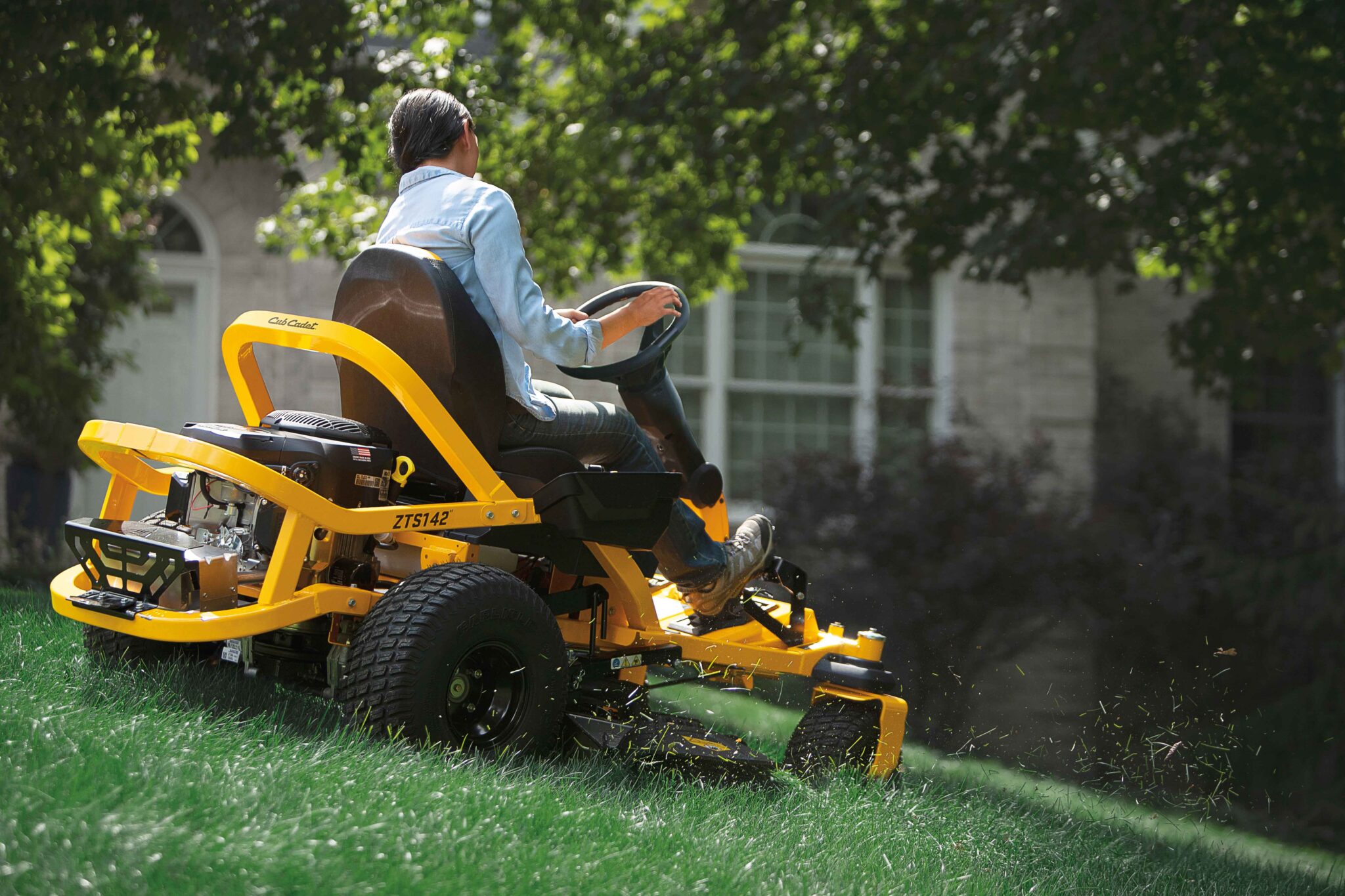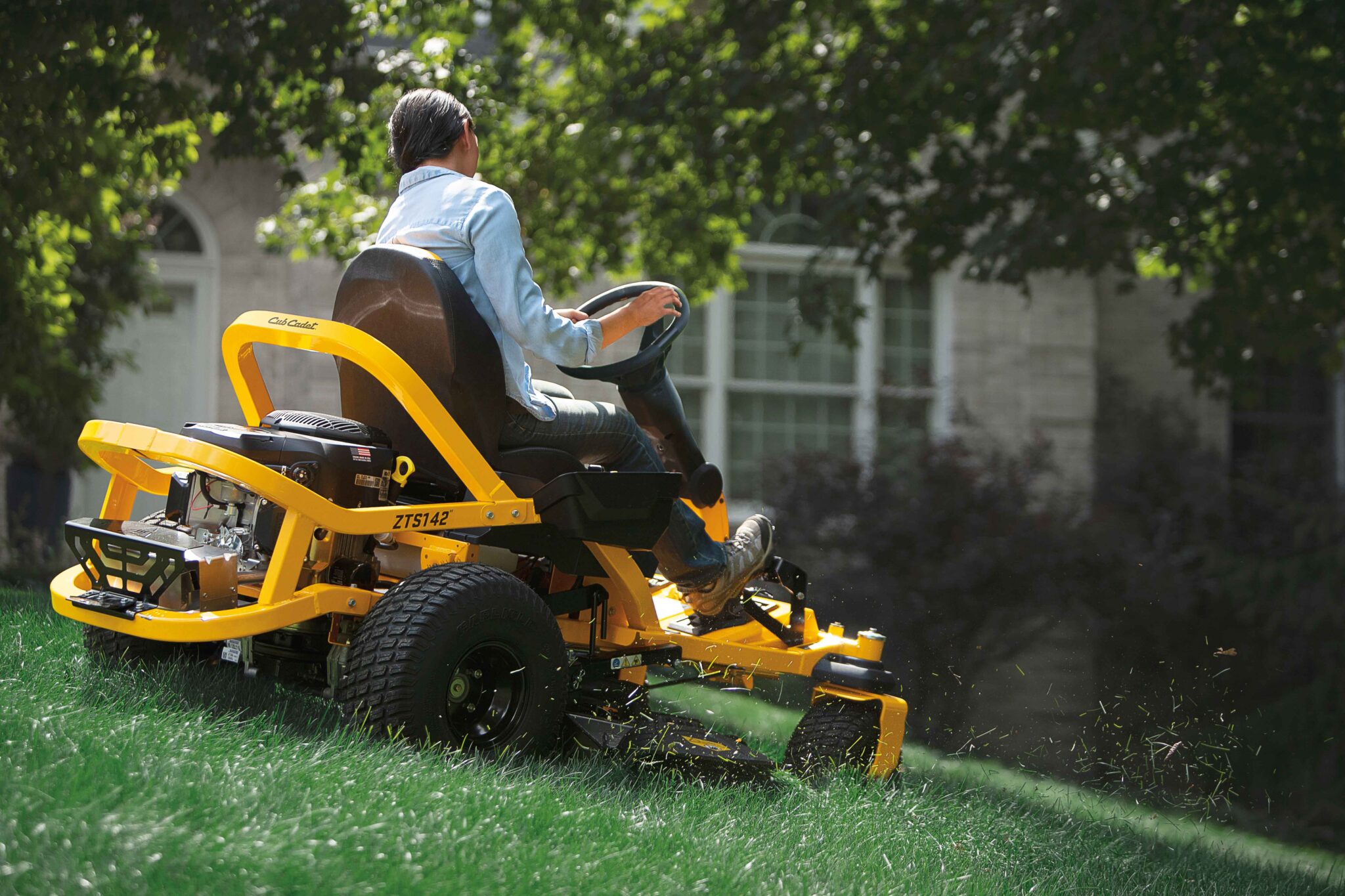 Safe mowing on steep slopes
Cub Cadet's line of zero turn mowers, operated by a steering wheel, stands out as a distinctive option in the market, providing notable control and safety benefits, especially on steep terrain, in comparison to lap bar controlled zero turn mowers.
By granting full control over all four wheels, we have developed a zero turn mower that delivers the speed and efficiency of a wide area lap bar machine, while instilling a greater sense of confidence and capability when faced with challenging conditions.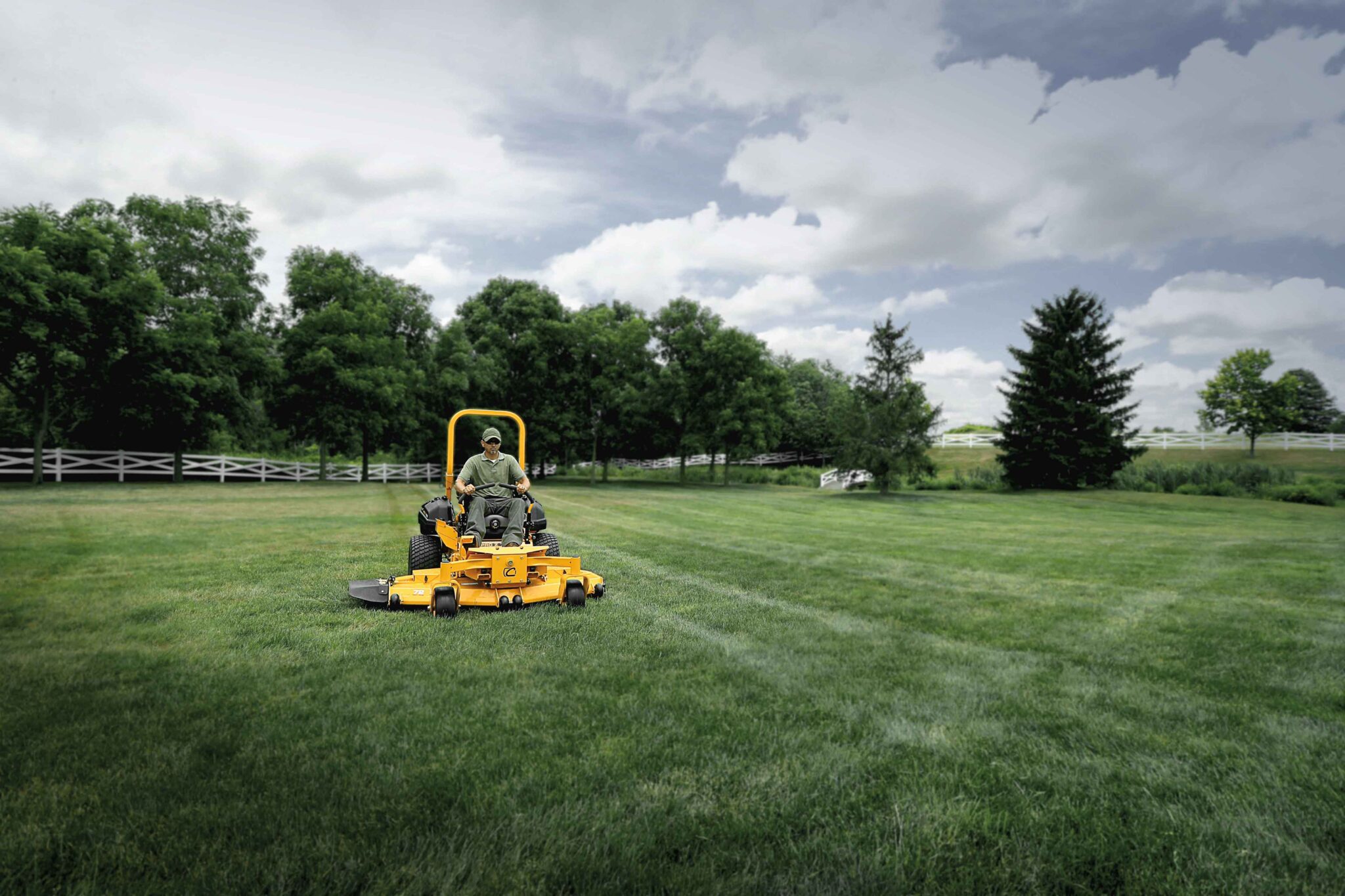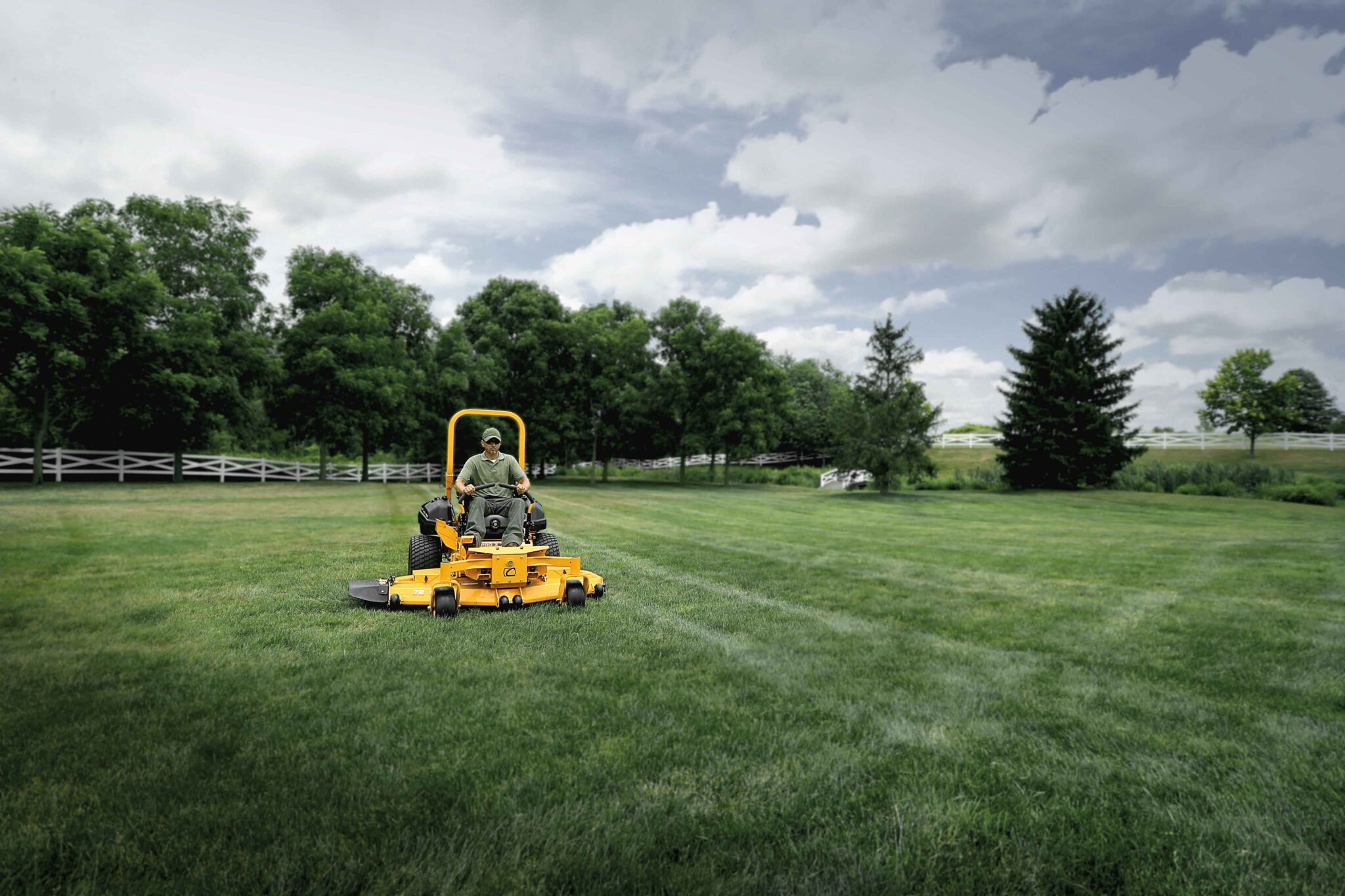 Whether you are a landowner managing a vast property or a gardening contractor serving suburban or rural areas, Cub Cadet offers a wide range of zero-turn mowers to cater to every operator and application.
Our premium zero turn mowers boast top-notch quality, featuring fabricated cutting decks constructed with thicker steel and superior blades that surpass anything currently available in the market.
As the deck size increases, so does the engine and transmission power, providing you with a machine capable of operating for extended periods, enduring high temperatures, and efficiently covering large areas. These mowers are designed to work tirelessly for you, year after year.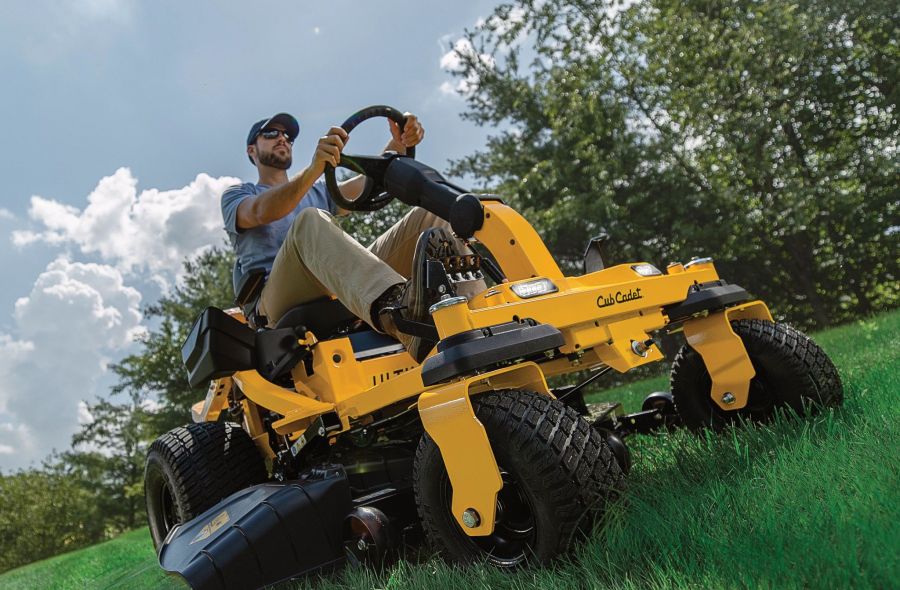 When it comes to extended hours of riding a sturdy and durable workhorse, having a comfortable saddle is essential. With Cub Cadet, you can expect a zero turn mower that prioritizes your comfort and incorporates numerous innovative ergonomic elements.
We take pride in offering an extra-wide high back comfort seat equipped with armrests, ensuring optimal support. Our mowers also feature rubber footrests, overmolded comfort lap bars for a secure grip, and an easy-to-use dial for effortless deck height adjustment. These thoughtful design details contribute to a superior mowing experience.
Experience the performance of a Cub Cadet zero turn mower by taking a test drive at any of our authorized dealers. Locate a dealer near you and get behind the wheel today!
Don't miss exclusive offers, new releases and product tips in our Newsletter